×
Live updates appear to be disconnected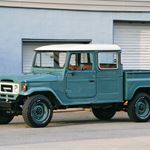 1991 Toyota OJ55 Bandeirante
Ended
1991 Toyota OJ55 Bandeirante
Highest Bid: $40,100 by: RMCAG
End Date: 9/30/2020 12:48:00 PM
---
Chassis/VIN:
9BROJ0060M1017789
Location:
Atlanta, Georgia
Your bid is a contract between you and the listing creator. If you have the highest bid you will enter into a legally binding purchase contract.
Vehicle Story
This 1991 Toyota OJ55 Bandeirante is finished in Heath Gray over a saddle vinyl interior and is powered by a 4.0-liter naturally-aspirated four-cylinder Mercedes diesel paired with a 4-speed manual transmission. The Bandeirante was produced only for the Brazilian market, this example underwent a recent complete cosmetic and mechanical restoration prior to being imported into the US from the seller. This Bandeirante is now offered with a clean Georgia title in the seller's name.
The vehicle was originally white but was professionally repainted its current two-tone color combination as part of a frame-off restoration performed by Overland Imports. Its body style configuration is OJ55LP-2BL, which corresponds to a two-door double-cab pickup truck. A channel front bumper was added to match the factory rear bumper. The front grille was changed and features a square bezel with round headlights and a custom honeycomb grille insert. The bolts used are said to be new, as are the glass and weatherstripping.
Factory 16" wheels are color-matched to the exterior of the vehicle and are wrapped in BF Goodrich 235-85-16 All-Terrain T/A tires on all four corners.
The interior is fitted with beige carpeting and saddle colored vinyl seats. The headliner, sun visors, dash pad, door cards, and shifter boots were also finished in the same vinyl. Custom matching floor mats were added to the front and back as well. The vehicle has manual crank windows and a fire extinguisher is mounted underneath the dashboard on the passenger side.
The gauge cluster includes a speedometer as well as oil and water temperature gauges. There is a tachometer mounted to the right of the driver in the central instrument panel. The odometer was replaced during the restoration and currently reads 392 kilometers, of which 100 kilometers have been added by the seller.
The Mercedes-Benz OM-364 4.0-liter naturally-aspirated four-cylinder diesel was fully serviced as part of the restoration effort and was rebuilt to factory specifications. The belts, hoses, filters, seals, and gaskets are new. The transmission, transfer case, differentials, hubs, and axles were also rebuilt. The front brakes were converted to disc brakes and rear drums were rebuilt to factory specifications. All wiring harnesses were redone, and the locking mechanisms and window regulators are new. The engine is paired to a 4-speed manual transmission with a 2-high/4-high/4-low transfer case.
Additional photos of the undercarriage are provided in the gallery.
AUTOHUNTER ADMIN UPDATE 9/15/20 8:30AM PST: Additional undercarriage photos have been added to the gallery
AUTOHUNTER ADMIN UPDATE 9/24/20 3:35PM PST: The model year has been updated to 1991
is there a way to bid without putting a card number on this site?
A: (daniel@overlandimports
Seller
)
Please discuss this with Autohunter but most online Auction sites like Bring a Trailer will require a payment method to bid. This prevents people from bidding, winning and then running away. The Auction is almost over. Good luck with the auction.
09/28/2020 5:39 AM
Is their any heating or air conditioning on this vehicle?
A: (daniel@overlandimports
Seller
)
There is not Heat. We can add this feature later if you want. We can install a Vintage Air unit that will be AC/Heat.
09/27/2020 4:20 PM
Is that the original location for the battery? It looks as if getting into the back seat requires either climbing over either the battery or the fuel tank.
A: (daniel@overlandimports
Seller
)
Yes that is the correct location until 1994 From 1995 on it is in the engine bay. Yes getting into the backseat just requires flipping the driver or the passenger seat up and forward.
09/26/2020 9:51 AM
rkbranham1 question and your response leaves me wondering what a "clean Georgia title" means. Is it currently titled and if so what year is on the title, 91, 92 or 91/92.
A: (daniel@overlandimports
Seller
)
The title is registered in the state of georgia as a 1991. I can send a copy upon request.
09/26/2020 8:46 AM
I may have missed this, does it have AC? Is it a '92 or '91? Seems like the year was posted as '92 initially.
A: (daniel@overlandimports
Seller
)
This is a midyear 91/92. In our previous sale, we had the same situation with a 94/95. It was listed as 95 in the auction, but when the buyer tried to get the title and insurance, they wanted the older year. We asked AUTOHUNTER to use the older year.
09/25/2020 8:25 AM
Is diesel a bad thing to drive? what are the pros and cons
A: (daniel@overlandimports
Seller
)
Diesel is not bad to drive. It has a very low end torque but makes just as much engine noise as a 302 V8 you might see in a classic bronco. There are many different opinions about gas versus diesel and i only have 250 characters to list. Not enough.
09/24/2020 10:57 AM
does this take gas? or just diesel?
A: (daniel@overlandimports
Seller
)
All Toyota Bandeirantes ever produced take diesel. None are gas. Also all come standard in Manual Transmissions.
09/24/2020 10:42 AM
What is the reserve on this?
A: (daniel@overlandimports
Seller
)
For this Auction, Autohunter.com does not make the reserve visible to the bidders.
09/23/2020 11:37 AM
Does it have a radio and disc changer
A: (daniel@overlandimports
Seller
)
Currently, there is no Stereo. We feel this is a personal purchase so we would rather work with our new buyer to install something they want after the purchase.
09/22/2020 1:32 AM
What is the fuel tank capacity?
A: (daniel@overlandimports
Seller
)
52 liters or 13 gallons
09/19/2020 11:39 PM
Does this vehicle come equipped with a heater ?
A: (daniel@overlandimports
Seller
)
It does not but we can a vintage air heater/AC. Estimated Cost is $3000.
09/19/2020 10:28 AM
does this truck have power steering? is it original?
A: (daniel@overlandimports
Seller
)
It does not have power steering and all parts are original.
09/19/2020 4:58 AM
Any details on the engine? Horsepower, mpg?
A: (daniel@overlandimports
Seller
)
The engine is the original OM364 Mercedes Benz 4.0L, 4 cylinder 90HP with 234 ft/lb of torque. It is a Manual 4 speed. The Chassis code is OJ55LP 2BL. This is the same engine Mercedes used in the Unimog vehicles.
09/16/2020 9:17 PM
Do you know why the bed is mounted so high/ looks out of alignment? Thanks!
A: (daniel@overlandimports
Seller
)
The bed is in the original position after we put it back on after taking the body off the frame. We have not seen or felt any issue with the bed of the truck while driving and testing it in Atlanta, GA.
09/16/2020 8:43 AM
I'm guessing that Mercedes diesel isn't the original engine? Also, does the front have manual locking hubs, or do you just use the shifter? And just to confirm from the pictures, the gas tank is under the rear seat, yes? Thanks
A: (daniel@overlandimports
Seller
)
In Brasil, Mercedes Benz partnered with Toyota in the early 1960s and made all the engines for the Bandeirantes. Only in 1995, they had the Toyota Diesel Engine so yes this engine is all original. Yes, just us the shifter. Gas Tank under the cab.
09/14/2020 3:36 PM
Any idea on what the mileage is on the chassis before restoration?
A: (daniel@overlandimports
Seller
)
The Chassis had 62,000 miles on it before our Restoration.
09/09/2020 11:37 AM